5 Steps to Get Your PPP Loan Forgiven
Whether you have recently received a loan or plan to apply soon, you should get familiar with the details of the Payment Protection Program (PPP) so you can fully take advantage of loan forgiveness.
Update: Information has been updated to reflect recent changes made by Congress in the PPP Flexibility Act (PPPFA) and issued a new interim final rule that implements changes made by the PPPFA. The SBA updated the PPP loan forgiveness application to now include two types of forms: a regular Form 3508 and Form 3508EZ . Learn more.
There are two important conditions for PPP loans to be forgiven:
The loan proceeds are used to cover payroll costs, and most mortgage interest, rent, and utility costs over the 8 week period after the loan is made; and
Employee and compensation levels are maintained
If you are unable to comply with the requirements, the terms of an unforgiven PPP loan are still pretty generous - 1 percent interest, paid back over two years, with no other borrower or prepayment fees.
But even with an almost interest-free rate, let's be honest - it would be pretty nice to get that loan forgiven. Follow these five steps to ensure PPP loan forgiveness.
Step 1: Plan to spend the loan on the intended use: payroll, mortgage interest, rent, and utilities
Your PPP loan will be forgiven if you spend 100 percent of the funds on payroll, mortgage interest, rent, and utilities in the eight weeks after receiving the loan. You must spend at least 75 percent specifically on payroll. The other 25 percent can be divided up between rent, utilities, and mortgage interest (if applicable).
What counts as payroll costs? Payroll costs include:
Salary, wages, commissions, or tips (capped at $100,000 on an annualized basis for each employee);
Employee benefits including costs for vacation, parental, family, medical, or sick leave; allowance for separation or dismissal; payments required for the provisions of group health care benefits including insurance premiums; and payment of any retirement benefit;
State and local taxes assessed on compensation; and
For a sole proprietor or independent contractor: wages, commissions, income, or net earnings from self-employment, capped at $100,000 on an annualized basis for each employee.
You will owe money when your loan is due if you use the loan amount for anything other than payroll, mortgage interest, rent, and utilities in the eight weeks after receiving the loan. For example, you may choose to use your loan to cover existing debt obligations, like credit card payments, but you will not receive loan forgiveness on those costs.
Step 2: Watch out for loan forgiveness "penalties"
Think of PPP loan forgiveness as a sliding scale. There are certain actions you could take that will reduce the amount that your loan can be forgiven. The bottom-line is that you will owe money if you do not maintain your staff and payroll. Every dollar that you don't spend on doing so is a dollar you will need to repay, plus interest.
Remember, you must spend at least 75 percent specifically on payroll and the other 25 percent should be divided up between rent, utilities, and mortgage interest in order to qualify for loan forgiveness. Be mindful of the payroll actions that will reduce the level of loan forgiveness:
Number of Staff - Your loan forgiveness will be reduced if you decrease your full-time employee headcount.
Level of Payroll - Your loan forgiveness will be reduced if you decrease your full-time employee headcount. Further, if you decrease salaries or wages by more than 25% for any employees that made less than $100,000 in 2019, then your loan forgiveness will be reduced.
Re-Hiring - You have until June 30,2020 to restore your full-time employment and salary levels for any changes made between February 15, 2020 and April 26, 2020. In short, if you laid off employees or reduced their wages and then received a PPP loan, it's time to hire them back or reinstate their salary.
What about laid off employees who refuse to be re-hired?
Will your PPP loan forgiveness amount* be reduced if the you laid off an employee, offered to rehire the same employee, but the employee declined the offer?
The answer is no. The SBA and U.S. Treasury intend to issue an interim final rule excluding laid-off employees whom the borrower offered to rehire (for the same salary/wages and same number of hours) from the CARES Act's loan forgiveness reduction calculation. The interim final rule will specify that, to qualify for this exception, the borrower must have made a good faith, written offer of rehire, and the employee's rejection of that offer must be documented by the borrower. Employees and employers should be aware that employees who reject offers of re-employment may forfeit eligibility for continued unemployment compensation.
*Pursuant to section 1106 of the CARES Act and SBA's implementing rules and guidance.
Step 3: Document ALL of your loan expenses
From the moment your loan hits your bank account, it's time to up your documentation game. Be diligent about how you use your funds and document every expense you make with that money. Assuming you spent your loan on all eligible categories, bring the following documentation to get the ball rolling on applying for loan forgiveness:
Documents verifying the number of full-time equivalent employees on payroll, and their salary/wages for the period you used the loan to pay them. These could include payroll reports from a payroll provider, payroll tax filings, income/payroll/unemployment insurance filings from your state, and paperwork that verifies retirement and health insurance contributions.
Documents showing payments of mortgage interest, rent, and utilities. These could include canceled checks, payment receipts, or account statements.
Keeping clear, consistent records will help you in the loan forgiveness process. Make sure you have access to the accounts you need and have systems in place to help you easily document everything. Bonus points for keeping digital records that can be easily organized and accessible.
Step 4: Complete the SBA Loan Forgiveness Application
Update: The SBA released the official Paycheck Protection Program (PPP) Loan Forgiveness Application and gave critical clarification on documentation requirements. The application is to be completed by the small-business borrower and submitted to the bank or lender who processed their PPP loan.
While the Small Business Administration oversees the Payment Protection Program and gives final approval on loans, your PPP loan comes through your lender of choice. That lender may require even more documentation. Because of this variability, make sure you understand your lender's rules for loan forgiveness when you take out your loan, and check in with them throughout the forgiveness process. Your lender must give you a response to your loan forgiveness request within 60 days of receiving it.
Step 5: Communicate with your lender early and often
Truth be told, it's probably really hard to predict how or when your business will bounce back. Keep your lender in the loop of how things are going. Don't wait for your lender to reach out to you. Be proactive about communicating your needs and get clarity on anything you might be confused about. During this unprecedented time, every dollar counts. Don't let a simple mistake or misunderstanding get in the way of total loan forgiveness. Your business, your employees and community needs you. Your lender is here to help you succeed, so take advantage of all the resources available to you and your business.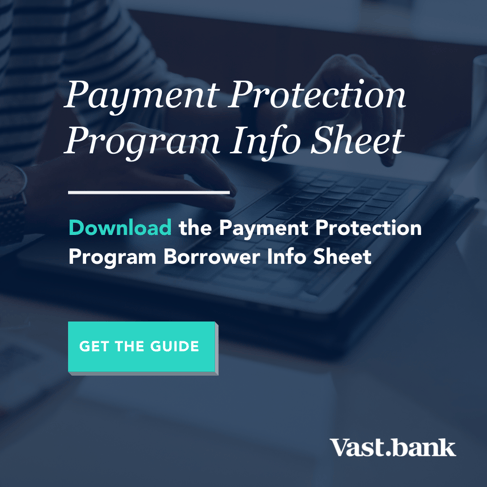 References: