Vast Bank Response to COVID-19: Our Plan. Bank Anywhere.
To our valued customers:
By now it's clear the level of impact that COVID-19 (coronavirus) is having on society. While there's nothing we can do to change what's happened so far, we're doing all we can to ensure our customers and employees are prepared as the situation progresses. For us, there is currently no higher priority.
At this moment, all of our branches are open and will operate during regularly scheduled business hours. With that, we're taking extended actions to ensure our branches and corporate offices are clean and hygienic.
**UPDATE: Starting Thursday, March 19, all of our banking center lobbies will be closed to the public until further notice. Only employees and customers with appointments will be permitted to enter. All banking center drive-thru windows will be open, fully functional, and staffed to meet increased capacity.**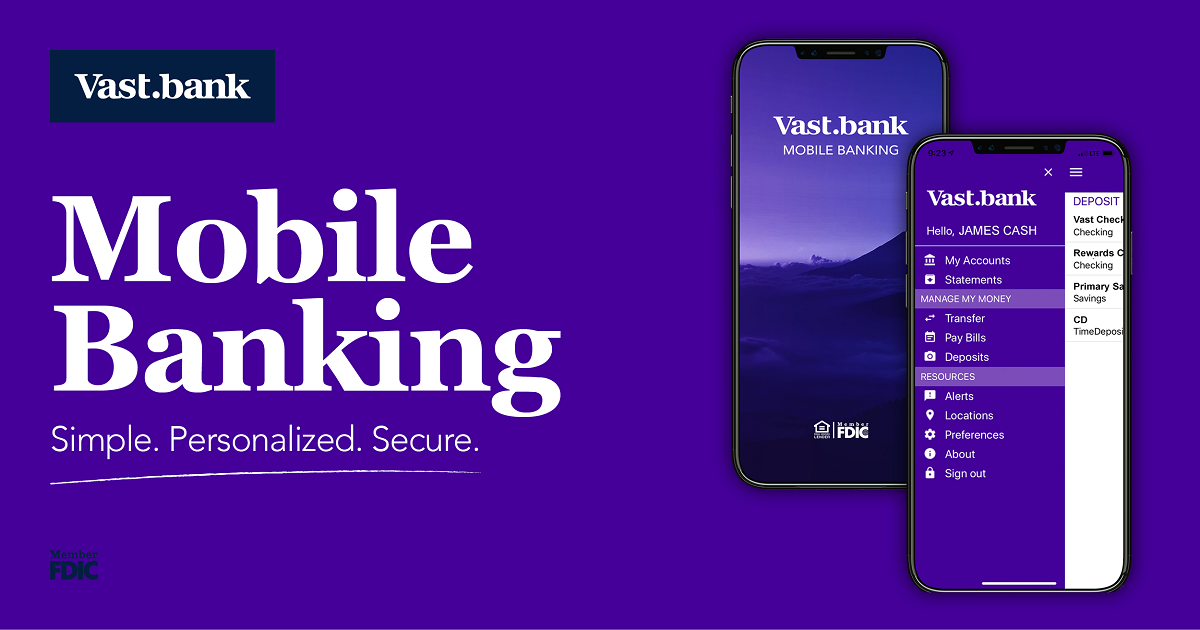 Further, we want you to have confidence that you can bank virtually using the Vast Bank Mobile app and Vast online banking. If you haven't already;

Commercial & Treasury customers with questions can contact us directly at tmsupport@vast.bank.
Here's what we're doing to prepare our branches:
We are actively encouraging sick employees to stay home. Employees who have symptoms of acute respiratory illness are recommended to stay home and not come to work until they are free of fever (100.4° F or greater using an oral thermometer), signs of a fever, and any other symptoms for at least 24 hours, without the use of fever-reducing or other symptom-altering medicines (e.g. cough suppressants).
We are actively performing routine environmental cleaning. We are routinely cleaning all frequently touched surfaces in our branches, such as teller stations, desks, countertops, and doorknobs. We are providing our branches with disposable wipes so that commonly used surfaces (for example, doorknobs, keyboards, remote controls, desks, ATM keypads) can be wiped down by employees before each use.
What you can do to help:
If you are sick with flu-like symptoms, please stay home to prevent the spread of disease. Essential banking services can be completed online on your computer or mobile device.
Use Mobile Deposit. You can deposit checks, pay bills, and transfer money using the Vast Bank Mobile App. You can download the Vast Bank Mobile App on any iOS or Android mobile device. Learn more at vast.bank/help.
Use the Drive Thru. If you need to visit a branch, we encourage you to use the drive thru for basic banking services.
Use a Debit Card Instead of Cash. People could catch COVID-19 by touching contaminated surfaces or objects – such as cash – and then touching their eyes, nose or mouth. Using your debit card instead of cash could help reduce this risk. If you do need to use cash, you can find your nearest surcharge-free ATM at https://www.vast.bank/atm-near-me.
Questions?
The Oklahoma State Department of Health has established a call center to answer COVID-19 related questions. The number is 877-215-8336. The call center has the capability to connect callers to Spanish-speaking interpreters. Hours can be found at www.coronavirus.health.ok.gov
To learn more about the Coronavirus, we encourage you to visit the CDC's dedicated COVID-19 resource center: https://www.cdc.gov/coronavirus/2019-ncov/index.html
We're here to help. If you have questions related to your banking services, please don't hesitate to call us 918-495-1700.