How to Improve Business Cash Flow with an SBA 504 Loan
Did you know that you can improve business cash flow with an SBA 504 loan? The SBA 504 loan could be a great tool as your business recovers from the economic downturn caused by the COVID-19 pandemic.
What is an SBA 504 Loan?
The SBA 504 loan is an existing program that offers small businesses with long-term, fixed-rate financing used to acquire fixed assets – like commercial real estate and equipment - used for business expansion or modernization.
So, what's new with this current program? The SBA is providing a financial reprieve to small businesses during the COVID-19 pandemic. As part of the coronavirus relief response, the SBA will pay 6 months of principal, interest, and any associated fees that borrowers owe for all current SBA 504, and as well as new SBA 504 loans disbursed prior to September 27, 2020.
Could your business use that extra cash flow? We thought so. Here is what else you can do with an SBA 504 loan.
With the SBA 504, companies can:
Consolidate existing debt (balloon and/or high interest rate loans)
Lock in long-term, stable financing, reducing fluctuating expenses
Finance eligible business expenses, saving needed cash-flow
Protect jobs and hire additional staff, supporting the local community
Include closing costs in the transaction, eliminating cash-flow drain
How the SBA 504 Program Works
SBA 504 Loans are typically structured with SBA providing 40% of the total project costs, a participating lender covering up to 50% of the total project costs, and the borrower contributing 10% of the project costs. Under certain circumstances, a borrower may be required to contribute up to 20% of the total project costs.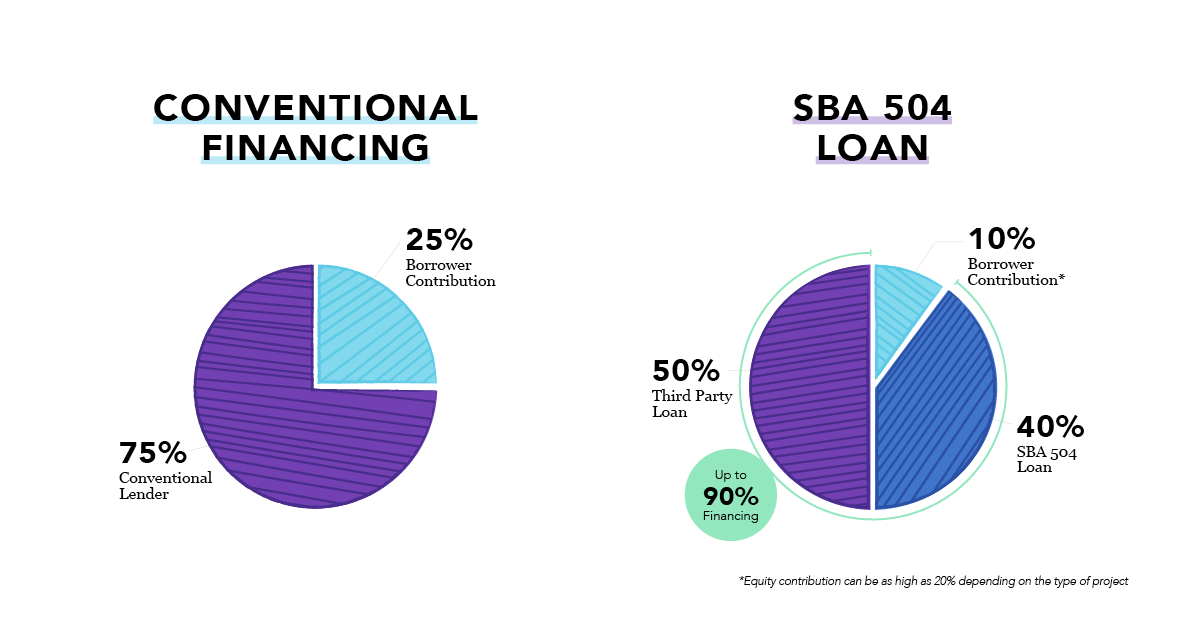 Let's say for example that total 504 project costs for a $1,000,000 project may include the following (eligibility requirements apply to the 504 portion of the project as well as the participating lending portion):
Building Purchase
Land
Renovation
Furniture and Equipment
Soft Costs
Example SBA 504 Loan Structure
$500,000, 1st lien with bank (loan obtained from a private sector lender covering up to 50% of the total project cost)
$400,000, 2nd lien with 504 loan, 20 year, fixed rate (loan obtained through a CDC, funded through an SBA-guaranteed debenture, covering up to 40% of the total project cost)
$100,000, borrower contribution (contribution from the borrower of at least 10% of the total project cost)
SBA 504 Loan Eligibility
To be eligible for a 504 Loan, your business must be operated for profit and fall within the size standards set by the SBA. Under the 504 Program, a business qualifies if it has a tangible net worth not more than $15 million, and an average net income of $5 million or less after federal income taxes for the preceding two years prior to application. Loans cannot be made to businesses engaged in nonprofit, passive or speculative activities.
Collateral
Generally, the project assets being financed are used as collateral. Personal guarantees from owners of 20% or more may also be required.
SBA 504 Interest Rates and Fees
Interest rates on 504 Loans are correlated with the current market rate for 5-year and 10-year U.S. Treasury issues. Loan maturities of 10 and 20 years are available. Fees may be financed with the loan.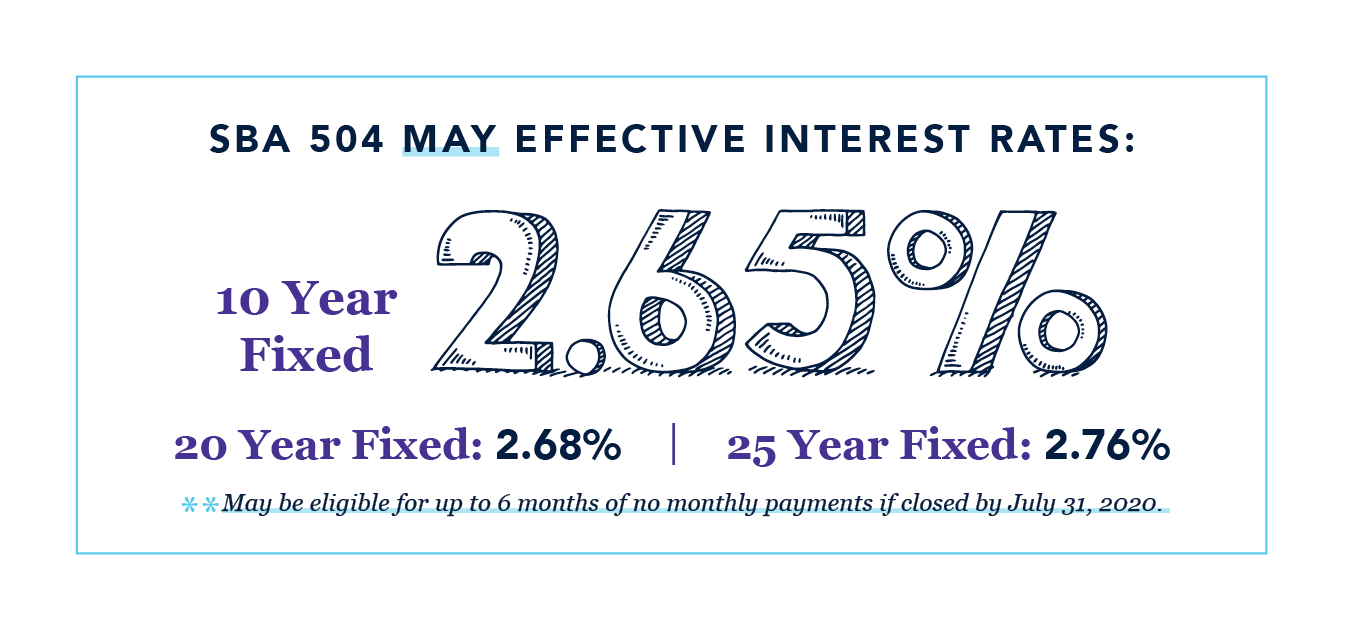 Don't leave money on the table. Contact us today to get started on an SBA 504 loan to take advantage of six months of covered payments by the SBA on your owner-occupied commercial real estate or equipment.