Thanks for Noticing: A Peek into the Landmark Vast Bank Building in Downtown Tulsa
In Fall 2019 we moved into our new corporate headquarters — a six-story, 100,000 square foot building in downtown Tulsa at 110 N. Elgin Ave — and realized our long-term strategic mission of better connection to local business owners and the downtown community at large. More importantly, our landmark building is an opportunity for us to invest again in the city we love and call home.
For nearly four decades, Vast Bank has invested in the dreams of bold Tulsans. And we don't plan on stopping any time soon—we intend to continue forging partnerships to make good things happen for Tulsa and its people.
"This investment in downtown Tulsa is a strong statement that we are here for the long haul. It is the Biolchini family and Vast Bank stakeholders doubling down on Tulsa. We want to be a part of the growth and success of this incredible city for years to come."
- Tom Biolchini, Chairman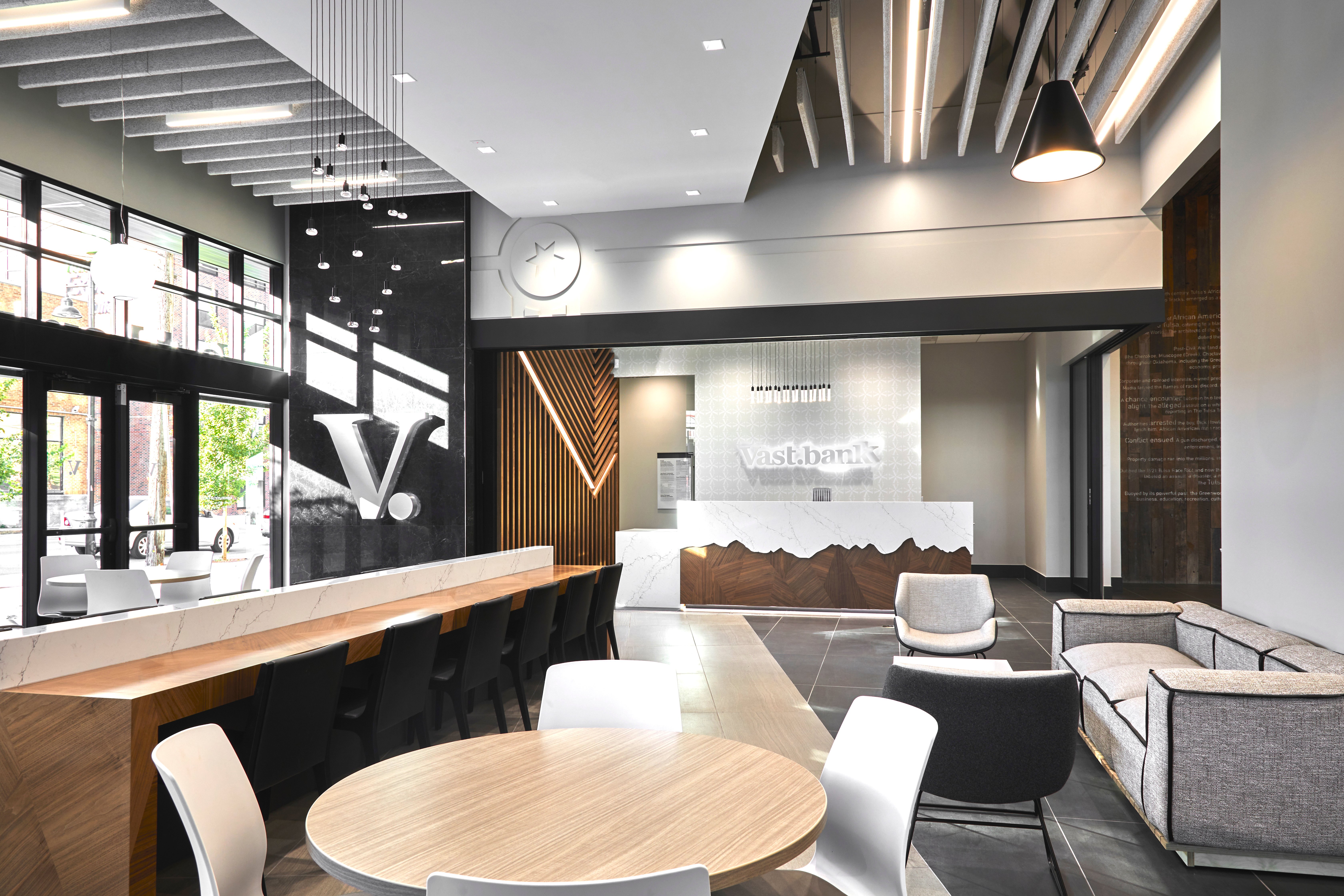 A Closer Look:
Vast Bank has a branch on the first floor with executive offices on the fifth floor.

The building sits just west of ONEOK Field, and each floor has an outdoor terrace with a ballpark view.

The building features a four-story parking garage that is available to the public for events like Tulsa Drillers games and Tulsa Arts District events.

The building lobby features a community art wall with rotating features.

Public events space, The Rendezvous Room, boasts close to 1400 sq/ft and includes a balcony and overlooks ONEOK Field.




Our Retail and Professional Partners
The strength of our local economy relies on supporting local businesses, which is why we are excited to share our building with the following businesses:
Topeca Coffee: Famous local coffee roaster that also offers beer, wine and cocktails
In the Raw: Sushi rooftop restaurant and terrace
The French Hen: Tulsa's french fine dining for over 40 years
Businesses in the 395-spot adjacent parking garage include:
Skyline Animal Hospital and F45 Fitness.
The Vast Bank building also has a mix of professional tenants, including accounting firm Forvis, Jackson Hole Capital Partners, Dekraii and Associates, and law firm GableGotwals.